I started the February Lady Sweater at the beginning of January. Probably during my last break from school. I was hoping I would be able to finish it in time for Stitches West and actually wear it in February. No such luck. Very wishful thinking. I was like, "Oh, it's only a sleeve and a half. I can do that in 10 hours." Ha! I'm pretty funny. Anyway, I'm on my three week Spring Break (gotta love the year round school schedule) and I finally finished my sweater. This is my second sweater and I can't wait to wear it. It has been warm (70's) this last week or so,but it is supposed to cool down again. I almost wore it today, but decided against it, since I wasn't going anywhere and it felt like a waste to wear it in the house all day. Here it is: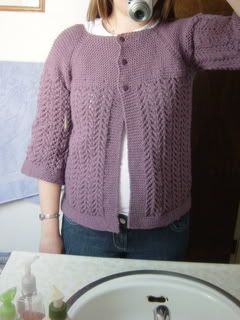 Again, I must ask, why is it that it is so hard to get myself to do the final finishing touches? I could have been done with this sweater last week or the week before, but those 6 yarn tails that needed weaving in really put me off. PLUS THREE BUTTONS!?! Well forget it. I knit, I don't sew. Seriously though, not that big of a deal and yet I procrastinate.
Overall, my knitting has been a little slow due to tendinitis. It got a lot better after the three weeks of wearing the brace. Then it started acting up again about a month and a half ago. I wore the brace again, but the effects weren't quite the same. I am trying to take it somewhat easy on the knitting, so haven't had as much to post about. Hopefully I can pick up the pace again soon. Right now I'm working on a simple striped rug from Knit Simple. It is pictured
here.
Also here is a belated picture. These are needle cases (custom made, I might add) as a Christmas present (hence the belated) from my cousin: