Especially when it's not a bill and it's a package!! In the last week I have received so many exciting things!!!
First I received a sweatshirt and t-shirt that I ordered as part of my shopping spree (x-mas gift) from knitiot: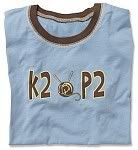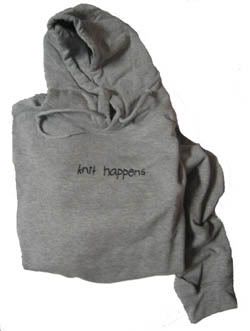 Then I received (on the same day) my mittens from the mitten exchange on ravelry. I love my mittens! They are so bright and cheerful!! My pal included some chocolate too. You can never go wrong with chocolate. I also received my order from knitpicks.com. Some tubes to hold dpns, a book of bootee patterns, and a ball winder!!! So excited about that one.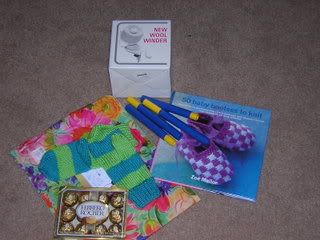 I opted to not get the swift since it was quite expensive and I figured I could just have someone hold the yarn over their arms while I wind it up. Yeah...I now understand why they are so expensive and I will be investing in one in the near future. I did some ball winding last night and it went ok, but nothing terrible. Here are some pics of the ball winding festivities of last night: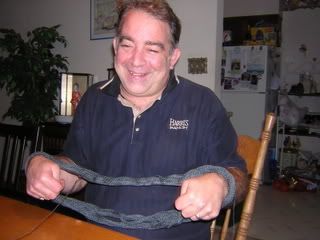 (I really was that much of a dorky kind of excited!)
The disaster waited until today to strike! My new yarn ended up getting into a big knot(s) that ended up taking me about 2 hours to work out! Unbelievable. Note to self: when something is more expensive, there is probably a good reason. So worth the money. Shopping list: SWIFT!
I would have taken a picture of the horrible messy knot of yarn, but it was much too upsetting. The picture in my brain is enough for me.
Not sure if this is spoiling anything, but I want to post a picture anyway. I don't think that anyone who reads my blog is a member of the Socks that Rock Club, so I can post what I got today (which was the yarn that was in a huge knot). I am so excited about this yarn!!! It even came with cute buttons and a tiny little skein of yarn on a key chain. Love it!!
The color of the yarn is Dragon Dance. So pretty!