I don't know about anyone else, but I really like to stretch out my birthday celebration as long as possible. I haven't been doing a ton of knitting lately, so I have some pictures of how I have been celebrating my birthday thus far.
First, the night before my birthday, DH gave me my gift (I am super impatient). The first things I pulled out of the gift bag were these: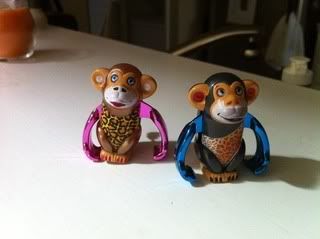 DH said one is me and one is him. I love how adorable he is in that way. The monkeys are wind ups and they do make me laugh as the move sideways across the table.
Also in the gift bag I received this: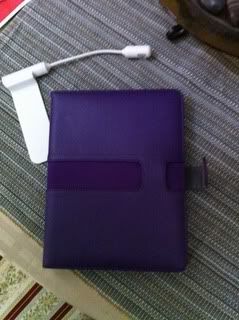 It's a Kindle in a purple case! Awesome! I have been debating over getting a Kindle for over a year. I love reading and I liked the idea of the Kindle (portable, light weight, many books in one for travel, etc.), but I was not sure if I wanted it because I was resisting change. There is something to be said about having a paper book in your hand and actually turning the pages. Now that I have it, I LOVE it! I still have some books on my bookshelf that I will keep because I will reread them. Also, I don't think I would want a digital version of a knitting books. You really need to be able to flip through those.
When I told my dad what DH had given me and that he was also taking me to a nice dinner on my actual birthday, my dad said, "It better be nice if all he got you was a candle." Cracked me up!
So the dinner was a surprise...we went to La Fondue. Melted cheese, lobster, filet mignon, chicken, shrimp and melted chocolate for dessert. Can't go wrong with that!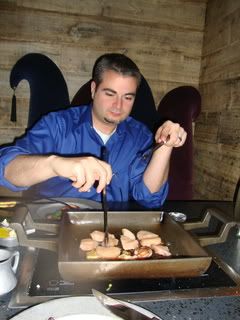 They brought out our dessert dippers with two candles and two glasses of champagne.
Probably the best birthday dinner ever!
On Saturday, I went to the LYS with a knitter friend. This shop has a make your own birthday sale with a chance for 100% off. On Saturday they were having an anniversary sale for everyone that was similar. You draw a poker chip out of a vase and get 20, 40, or 80% off. I decided to do the anniversary sale on Saturday and then save the birthday sale for another day this month (remember, I like to stretch out the celebration). I was stoked when I pulled out the chip for 40% off! I bought a pair of circular needles and this yarn: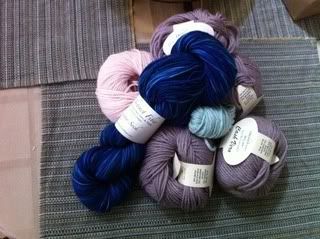 After the yarn shopping, my friend and I went across the street to a bar for a drink, a couple games of Scrabble, and knitting. Again, awesome!
Then Saturday night I went out to dinner with DH and friends. We went to BJ's Brewery. They have this amazing dessert that is called a Pizookie. If you haven't had one and you are ever near a BJ's, you must get it! Normally they are not this large, but this one was the size of a large pizza.
After drinking, having appetizers, and dinner, I figured there was no way the 7 of us there would finish this thing. Five minutes after singing "Happy Birthday" this was what was left:
I also received a couple more gifts. A bottle of wine and a wine glass. The related gifts were not planned that way, so I thought that made it great.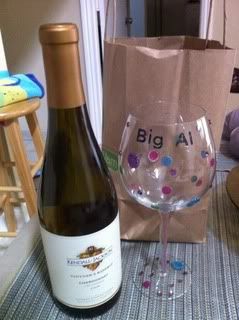 My friend decorated the wine glass and named it "Big Al." For those of you who don't watch the show, it is a reference to Cougar Town and "Big Joe" (RIP) and "Big Carl." Love it!
Needless to say I had a fantastic birthday!!