As I posted in an earlier blog, I have tried to do some spinning with a spindle. Another knitter in my knitting group and I decided that it may be helpful to take a class. She took a class at Stitches West, and I wanted to try a class. Even though another knitter in our group taught us how to spin, there is something to be said for paying for a class and knowing that you are going to devote that said amount of time to the new activity.
The class was good because it was just the two of us and we were able to ask lots of questions. I don't feel like a pro and I constantly had to remind myself not to get too discouraged. It's not like my first knitting project was a cabled sweater or anything. It was more like lots and lots of stockinette scarves and some dishcloths. I have to keep that in mind when I feel that I should have evenly utn fiber that looks like store bought yarn. Anyway, after the spinning class I was able to walk away with my first (mini) skein of two-ply yarn.
By no means perfect, but it actually looks more like yarn than anything I spun before. Now I just have to practice...
Another thing I have been inspired to do from knitters in the knitting group is to join a KAL on Ravelry. There are several of us in the group who joined the
Fair Isle Tote KAL
. I have done fair isle once before, but I have yet to teach myself how to continental knit so that I can knit with two strands of color with one in each hand. This is how far I've gotten on the tote so far:
the bottom: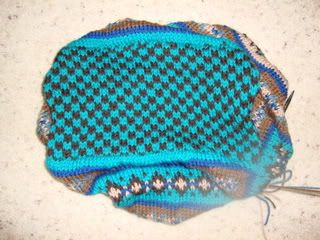 the side: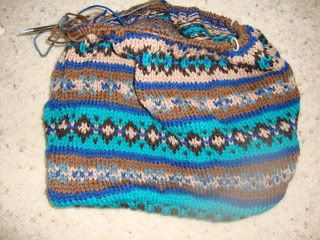 and the dreaded ends I will have to weave in: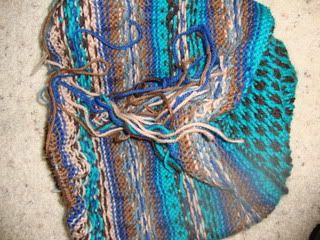 A couple of knitters were working ahead of the KAL schedule, so I decided to do the same. I forgot how much fair isle knitting is "potato chip" knitting. You can't stop after one.
Since I am well ahead of schedule, I am going to try to force myself to learn how to continental knit (which I know will slow me down, and therefore has put me off to doing it). As another knitter reminded me, the point of this project is to learn something new. Since I have done felting and fair isle before (although not together), I should really take this opportunity to learn the new skill of continental knitting. Wish me luck (and patience)!