Just a quick post of some finished projects...yay!
Here is the Felted Fair Isle Bag that I did as a knit-a-long with some lovely ladies in my knitting group. The KAL was done on Ravelry. Check it out
here
.
I recently finished
Anouk
. I knit the skirt in the round instead of leaving it as two pieces that you button together. I omitted the pockets and did three flowers across the bottom instead. This will be a gift for a very special girl that will be turning 1 this month :)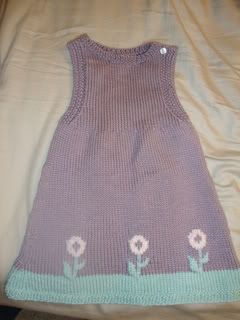 Last night while watching the San Jose Sharks lose :( , I finished these socks. They are just basic toe up socks with an afterthought heel. They remind me of Andes candy...the mint chocolate candies. I am giving them away as a Christmas gift and might include some of those candies. BTW, you didn't misread that; I said I FINISHED A CHRISTMAS GIFT. So proud :)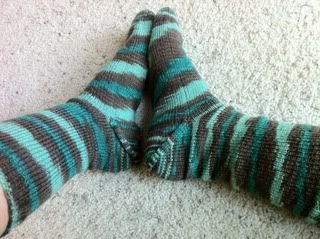 On the needles I have
Make Up Your Mind Tank
and
Calypso tank
. Obviously I am ready for summer!