Knittingma tagged me to participate in this book sharing blog entry.

I'm not sure that I will have enough people to tag back, but I don't want to disappoint the tagger by not participating.
I recently finished reading: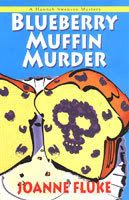 It's part of a murder mystery series and each book has a bunch of yummy recipes included. I finished this book during Christmas and now I am back to reading boring textbooks for school. This series of books is just a fun read. It's easy reading and something I can get through quickly. Each book is similar, but there is a comfort in that.
The blog tag requires me to turn to page 161 of the book, and read the 5th sentence. My book says:
"Hannah stepped into the library and smiled at the young man who was standing next to Marge."
Not very exciting. It was a part where a new character (possible suspect) was being introduced.
List of some of my favorite books:
1. The Harry Potter Series, by J.K. Rowling
2. My Sister's Keeper, by Jodi Picoult
3. Summer of the Monkeys, by Wilson Rawls
4. Witches, by Ronald Dahl
5. Nineteen Minutes, by Jodi Picoult
I definitely don't have 5 regular readers of my blog and the one person that does read my blog regularly is the one who tagged me. So I'll list some people and see what happens.

Apocaknits

Ramblings of a Knitting Obsessive

Yarn for Dinner
Uncle Larry (you could send me an email and tag people by email)
Laurie (you could send me an email and tag people by email)
Happy reading and knitting!!!