Ok so it hasn't been too long since I last posted, but it feels like forever. I mean I haven't posted since LAST YEAR! (I know, har har, not funny). Anyway, I haven't been knitting too much. I'm kind of enjoying the break from the Christmas knitting. Now I can knit without the time constraints, the pressure, the lingering feeling that I just need to get it all done! Ha! I wish! There are about three babies I still need to knit for. One was born on the 3rd, one is due this month and another one due in March. Some things have been started, so that's good.
As for Christmas...it was great! Don't really want to write about it, so I'll show some pictures:
My Grandma with her great granddaughter:
Me holding my niece (who is wearing the sweater and booties I knit for her). My gram took the picture and cut off my head, but she got the most important person in the picture :)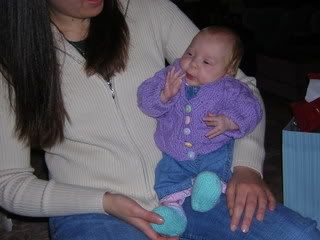 The hat I knit while with the family to match the baby's sweater. (The color is not quite the same in the picture).
The face mask I knit for my uncle so that he can keep his face warm while biking in WA in THE SNOW!!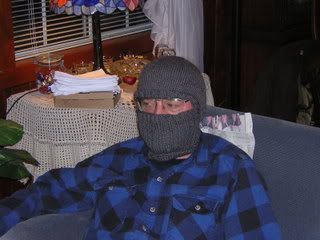 Two cousins and myself in the snow. This is exciting for me, since I live where is doesn't snow. This was at our family cabin and it doesn't snow all the time. It was all melted by the time I left a couple of days later.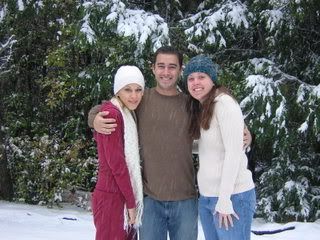 It's not Christmas, but still part of the holidays...Here's a pic of the girls at New Year's Eve dinner.
That's it for now. I start school on Monday :( so the knitting will probably slow down a bit. I joined the Rockin' Sock Club this year, so I look forward to receiving my first package!