When I get to the part in a pattern that says "Finishing" I feel a sense of dread come over me. I love knitting!! I HATE seaming parts, weaving in ends, felting, etc. I finally finished this bag:
Now, it wasn't the knitting that was the hold up. It was the felting. I was going to give this bag to my mom back in May for her birthday. So the bag was definitely knitted up by the middle of May. I just had to felt it. Ha! I didn't get around to doing that until last week. Then I had to stitch on the handles. I pretty much did that right when it dried so that the bag wouldn't be sitting around for another 2-3 months. It's not that the felting or attaching the handles is hard, I just don't really care to do it.
Another project that works as an example is the following: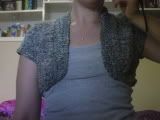 I got this yarn from my trip to Colorado. I finished the project in 2 weeks (which is quite an improvement from the market bag). The thing is, it took me about 3 or 4 days just to sew on the sleeves. I literally did one half of the seaming on each sleeve at a time.
Finally, I made this adorable guy: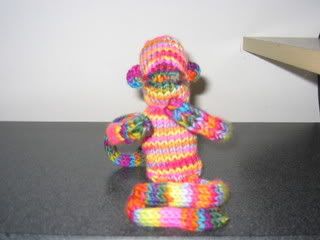 (He's pictured here doing his morning yoga)
Eddie has decided to keep James (that's what he named him). Notice the lack of eyes. I knit up this monkey in less than 24 hours. He was made while I was at Eddie's house and I didn't have any embroidery thread with me. I wanted to bring him home so I could put on his eyes as soon as possible before it got to the point where he just sat around for months on end because of my dislike for the "finishing touches." Oh well, I guess he'll be blind for awhile.
Anybody else have this problem with finishing?