Although it doesn't have anything to do with knitting, I have to start out by celebrating that I just signed my contract this morning for a teaching position!!! I was hired at a year-round school to teach Language Arts to 4th, 5th, 6th and ELD students. It is a position that very different from what I was expecting, but I think it will be a wonderful experience. Since I will be at a year-round school, I will start work on July 14th, much sooner than expected. I also started the masters program, but changed my schedule so that I am only taking one class. I really don't know how much time that will leave for knitting, but on the bright side, I will finally be making some money :)
To catch up a little...two days after I graduated from the credential program, I headed out to Colorado for a short vacation. On the airplane and in between activities I knit this:
While in Colorado, one of the activities was river rafting. Here are a couple photos (I'm in the middle on the left side of the raft if you're on it facing forward):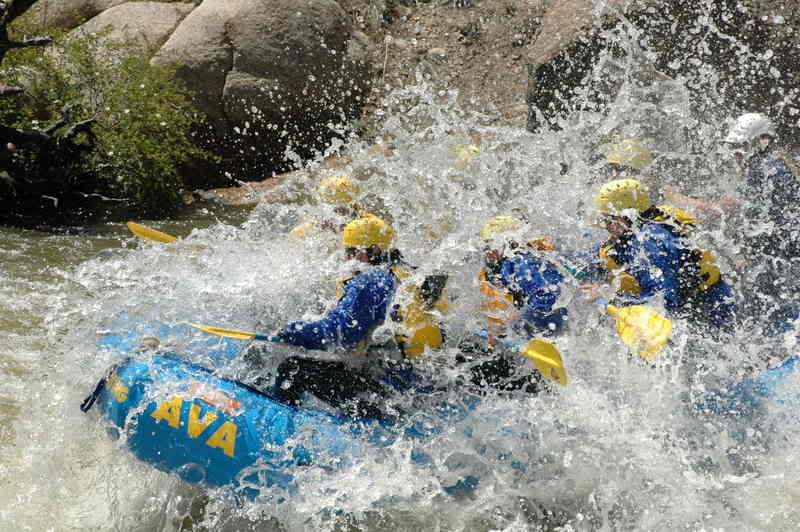 It was tons of fun and very cold!!! The guide told us that the river had 4000 cubic feet pass per second the day we went rafting. This may not mean much until I tell you that is it normally 400 cubic feet per second at this time of year. That's a whole lot of water!
I shopped at
I Love Knitting
in Denver. The staff was very helpful! I got some yarn and a book of patterns there. I am working on a bolero from the book. I don't have any pictures, but have almost completed the project. I will post pictures when I am finished.