Last weekend I participated in the Peninsula to Pier Shop Hop. I remember reading about it last year, but I wasn't able to participate. I was really excited about going this year. Unfortunately, I don't have any knitting buddies that I could take with me, but luckily my mom said she would go with me. She had been on quilt shop hops, but never a yarn shop hop. She was only available on Saturday, so the plan was to get as many in as possible and to hit the shops that were the farthest away. Mostly I am writing this blog to remember the whirlwind of shops. Sorry if it's too long (which I'm sure it will be).
Each of the shops had a one skein project. If you bought the yarn, you got the pattern for free. Some of the shops had their project yarn at a discounted price for the hop.
The first shop we went to was in Burlingame. It's called Yarn, Paper, Scissors.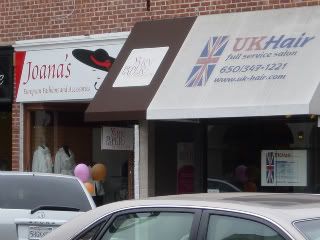 It was an absolutely adorable shop. They had a cute little area for knitting that included a fireplace (although I'm not sure if it was a working fireplace). The shop mostly had yarn, but they also had supplies and classes for paper crafts (cardmaking) and sewing. The project was a cabled headband, so I decided to get the yarn and project at this shop.
The next stop was Nine Rubies.
This shop was more of a higher end shop. It was one of those shops where I feel uncomfortable because it seemed more posh. None of the staff was rude or anything, but I just got that feeling. Their project was a very nice silk bag, but I couldn't bring myself to buy silk yarn for a bag I probably wouldn't use.
The final shop in that area was Creative Hands.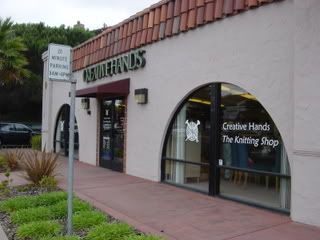 This was a decent sized shop. The thing that I liked the best was this cheat sheet card to tell you the length of a sock based on the receiver's shoe size. Mostly, I make socks for myself. I usually try on the socks and measure them on my feet and have no idea how long to make socks for anyone with a shoe size other than a women's 8. I also bought their project yarn and got the pattern for a small felted purse.
After this shop, we made the long drive to Carmel to go to Knitting By the Sea.
This shop was very small and if I was in the area, I probably wouldn't go back. I don't want to bad mouth any of the shops, but some shops I just got a feeling of whether or not I would want to return. Their project was baby booties. I probably won't make the booties, but I did buy the yarn since it was tofuties on sale. I can always make another pair of socks.
Next was Monarch Knitting and Quilts.
This shop was nice and big. They even had two dogs in the shop (so cute!). Their project was fingerless gloves and I bought two balls of yarn so that my cousin could make a pair as well.
Then off to The Yarn Place.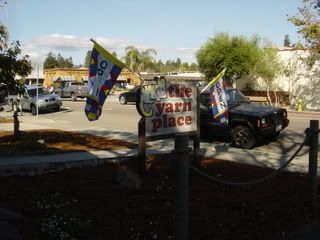 This was a small shop. I did not buy anything at this shop. I think their project was a hat, but it wasn't really my style, nor could I think of anyone I would give it to. We didn't spend too much time at this shop.
After that was The Golden Fleece.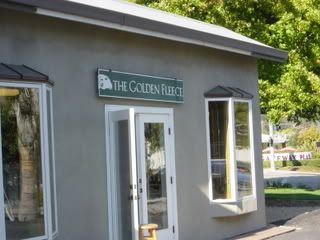 This was another one of the shops that I didn't get the best vibe from. I pretty much just had my passport stamped and went on my way. Their project was a felted hat that I wouldn't be caught dead wearing. It's funny because sometimes I would think, "Why do they have such an ugly project?" Then the more I thought about it, I realized that they have to have something for everyone. I mean, maybe some people were hoping that someone would have a felted hat and were not so stoked about the fingerless gloves. That's the great thing about knitting, there is always something for everyone.
Next was The Swift Stitch.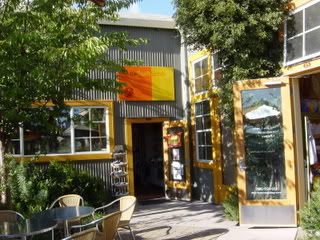 This was the only shop that we had trouble finding on Saturday. I finally called the shop and they told me that their address was 402 and not 401 as it had been printed on the list. It was across the street in a shopping area. The project they had was a beret. I decided not to get that because, again, it wasn't my style. They mentioned they had $2 and $4 bins in the back of the store. That's where I went! I bought about 7 skeins of cotton yarn. Not sure what I am going to do with the yarn, but I can always find something.
Then, Luminous Threads.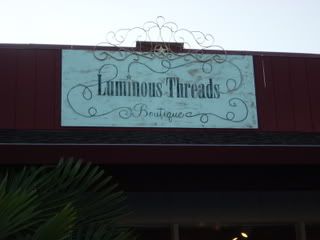 This was our final shop of the day. I did not make a purchase at this shop, but my mom was able to get some fat quarters for quilting. It was good to see her find something for herself.
The next day, Sunday, I was on my own. I had 10 more shops to go. I forgot to mention early that there was going to be a raffle drawing at the end of the hop. If you went to 12 shops you could win a $150 shopping spree, $300 for 15 shops and $500 for all 19 shops. Needless to say, I was going for all 19 shops!
I had printed out directions for all 19 shops. Since the shops were closer to Eddie's house, I left from there on Sunday. He stayed home to watch football while I went shop hopping. Eddie has GPS on his cell phone and offered to swap phones with me for the day. Even though I had the directions from mapquest, I figured it couldn't hurt to have the GPS as well, especially since I was flyin' solo.
The first shop was one that was 5 minutes from his house. It's called the Knitting Room.
I have been to this shop before. I usually only go in there if I need needles or some knitting notions. They don't really have the selection of yarn that I prefer. I decided to purchse their yarn and got the pattern for their project. I don't know if I would wear this hat, but the yarn was only $7, so it wasn't too bad.
Next, I decided to go to the shop that would be the most out of the way shop for the day. It was called Continental Stitch.
Their project was a scarf that looked interesting, but the yarn was over $20, so I decided to pass since I probably wouldn't have bought it on any other day. I felt somewhat pressured to make a purchase at this store. It was very quiet and I was the only customer. I ended up buying some interesting black and white buttons. I'm sure I'll have a use for them some day.
After that I was off to Yarndogs.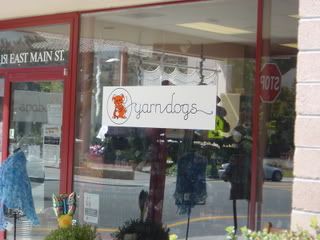 This is a shop I had been wanting to go to for a long time. I saw them at Stitches West two years ago and wanted to check out their shop since then. Two years later, and here I was. Ha! Anyway, they had a scavenger hunt in their store just for the shop hop. They will take all the answer sheets and put them in a drawing for a $100 gift card. Here's hoping! I didn't end up buying the yarn for their project, but I did get a kit for a cute little felted coin purse. It should be interesting when I have to put the zipper in. I have never done that for a knitting project before, or for any project for that matter. Once I sewed a dress, but I made my mom put in the zipper for me. Should be interesting. Overall, a very cute shop. They even have a board game night at their shop, which sounds interesting. I would love to go back again.
Next was Green Planet Yarn.
I have been to this shop a couple of times. There was actually a Sunday Market going on and the street was blocked off. I felt total dread about trying to find a parking spot. I turned the corner, and just as I did, someone pulled out of their parking spot. It was perfect! I just got my stamp and left. I figured I would be back there again, and time was awastin'!
The next shop was commuknity.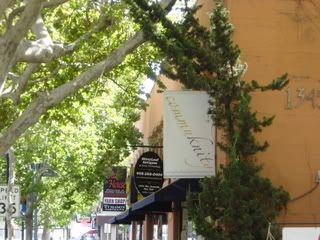 This is another shop that I go to often. I hadn't been there in awhile though and it was interesting to see that they had rearranged the shop. This was by far one of the biggest knitting shops. Maybe the biggest one I have ever been to. I didn't purchase their project, but I did buy a pattern for the felted hedgehog. My cousin was asking me what she could do with all of her fuzzy yarn and I immediately thought of this project, so I got the pattern.
On the was to Bobbin's Nest there was a detour. I was SO thankful that I had the GPS.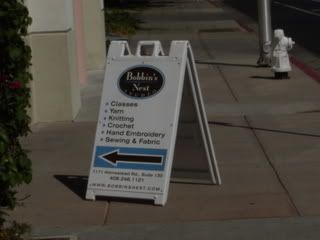 Their project was a pair of socks. I bought the yarn because I loved the colors. They are light blue, white and brown. The salesperson told me that they would be having an anniversary party in two weeks with champagne and crab cakes. She also gave me a 10% off coupon for that day. I will definitely have to check that out!
Next was Yarn Place.
This was probably the smallest shop I went to (maybe even the smallest I have ever been to). I bought the yarn and got the project at this shop. The project was a hat with earflaps. Even though I live in sunny CA, I have always wanted to make one of these hats. The yarn is bulky, so it should be a quick knit :)
After that, I headed to Purlescence.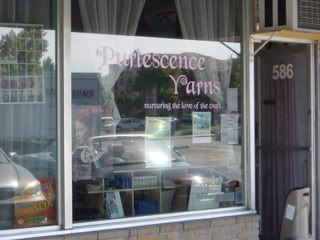 I was starting to feel a little stressed about time. The shops closed at 4pm on Sunday and I started my hopping at 10:40 (a little later than planned). I quickly went in, got my stamp, circled the shop once, and left. The thing I really liked about this shop was their set up for knitting with others. They had a bunch of chairs (including rocking chairs) in the very center of the shop. Then the walls were covered with yarn. It was different to see the chairs as the center of the shop's focus.
From there I headed over to Full Thread Ahead.
The project they had was a lace shawl. I think I may have been worn out from all of the shop hopping, but just the thought of knitting lace made me cringe. Needless to say, I did not purchase the yarn for their project. They gave me a handout about their shop. On this handout, there was information about their knitting retreat. I have never been to one of these and have always wanted to. It's coming up pretty quick, so I'm not sure that I'll go, but it was good to have the info just in case.
Off to the final shop!!! Uncommon Threads.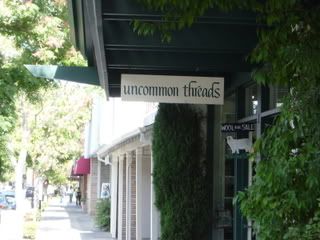 It was less then a minute away from the shop before it. I made it there by 3:37pm, so I had 23 minutes to spare before closing. I proudly turned in my passport with all 19 stamps!! Here's hoping for the $500 dollar shopping spree. Their project was socks that are knit horizontally instead of vertically. It sounded interesting. The best part was that you could pick ANY sock yarn you wanted AND you got 20% off. By far the best deal of the day.
Overall, it was a great experience. I was a little bummed about having to go alone on Sunday, but it really wasn't that bad. Especially when I had the GPS as my co-pilot :) If there is ever a shop hop in your area, I highly recommend it!