That was my response when my cousin hesitantly asked me if maybe I could knit a up a hat for her daughter. Someone asking me to knit them something? Someone who totally appreciates handmade projects. The answer was simple. Of course I will.
She doesn't need just any hat. She needs something to complete her daughter's costume for Halloween. Her older daughter (3yr. old) decided that she wanted to be a princess. After that decision was made, my cousin thought it would be cute for the whole family to go along with a theme. My cousin will be a fairy godmother, her husband will be a prince (I think), and the newest addition (5mo. old) will be a mouse (like from Cinderella). So I searched on Ravelry for a free mouse hat pattern, I didn't really find one the I liked. I google searched and found a pattern to use, but of course now I can't find it again to post the link. I can't wait to see how the whole costume comes together and hopefully will be able to post a picture later.
Last night was knit night. This was my second time attending in 3 weeks. It seems like such a wonderful happy group of people. I really enjoy the knitting discussions as well as knitting during the silences (which would otherwise be awkward silences). This was my first time going to this particular coffee shop. The parking situation was ridiculous (especially for a Wednesday night)! After searching for a spot for over 10 minutes I told myself, "Okay, I will go down one more row and if I don't find anything, I'm heading home." Sure enough, not just one, but two spots opened up in that row. It must have been the knitting gods telling me that I should not give up on this knit night!
Here is a picture of the project I worked on there: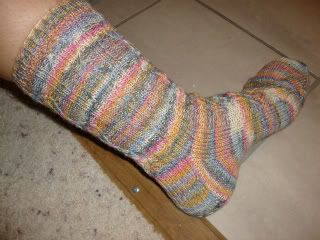 One sock down, one to go! Oh, the dreaded second sock...
And to try to get into the Halloween Spirit (on a budget) I have done a little decorating:
That's right! Color, cut, and glue. I got the Halloween print outs from
Life is Good
.