That's right, I finished one sock within 24 hours!!! It's miraculous. That has to be an all time record for me. It's amazing what you can accomplish when you don't have much else going on.
Here's the sock I finished in 24 hours:
And the conversation I had with my husband about it:
Me: (While modeling the sock on my foot) Babe, do you like my sock?
E: Uh, are there holes in it?
Me: Yeah. That's called lace. It's pretty!
E: Hmm...When my socks have holes in them I usually throw them away!
Awww, the mind of a non knitter. Gotta love him!
A couple of days ago, I also knit up a couple of these
Knit Turkeys
, which is a free pattern from
Webs Yarn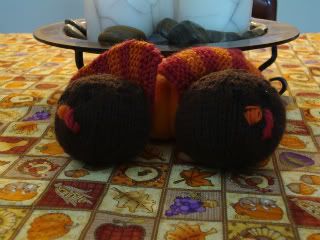 I think they are adorable (and a super quick knit too). You can also see my Thanksgiving tablecloth in this picture. The hubby would like me to do one for Christmas too. I think it's cute when he enjoys my projects :)
Two weekends ago, I went to Portland to visit my cousins and nieces. I was so happy I got to visit with them, and so so so sad that I forgot my camera!!! Argh! The four of us (cousin, her 3yr old, her 6mo old, and me) when to a yarn shop together called
Happy Knits
. This place was awesome. Not only did they have a play room for the kiddos, they also informed us that it was soundproof (not that we shut the door on the kids). Apparently the building used to be a recording studio. Great shop, awesome lighting!

Although the picture is small, I assure you that my 3 year old niece is holding yarn and needles and believes she is knitting. That's right, we start them young. When asked what she was making she said, "A hat for Addley (her best buddy)." Then she said she needed some glue. Ha ha! Love it!
We also did a drive-by shopping stop (my cousin waited in the car while I ran in to grab this bag) at
The Naked Sheep
. We usually make a stop at this shop. Every time we go I think about getting one of their totes, but then talk myself out of spending the money. This time I got one and they had my favorite color, so I think it was meant to be.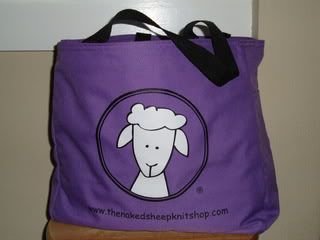 The bags have gotten a little more expensive than I remembered, but I think that the quality is better too. Plus I bought it in Oregon, so no sales tax!!