As I try to finish up my cardigan, I felt that I needed a quick knit. I also have a baby shower to attend next month. I made a baby blanket already, but figured I might add some other knitted things to the gift. I finished this bib:
The pattern is
Quacking Up
and I was able to use some cotton yarn from my stash. There are several other bib patterns on the
Down Cloverlaine
blog and I would definitely like to make some more. So cute, quick, and easy.
In non-knitting news, my job has been going well. Part of my job entails meeting with families and collecting some sample work. I usually meet families where there is free wifi so that I can work in between appointments. I won't say where I was, but I bought this sandwich for over $8 (no drink) and was super disappointed:
Seriously!?! And the bag of chips...are you kidding me. You may not get the full effect of how few chips there are so I dumped them out and took a picture before eating a single chip.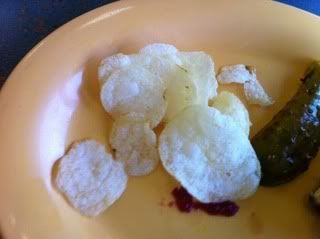 I don't even like potato chips that much and I was sad about this. Maybe this is my American portion size crazy talk, but I know I could get more sandwich for less money elsewhere. Oh well. Live and learn. The next time I had a meeting there during lunch I got a clam chowder bread bowl. It was much more filling and less expensive, so I guess that's the way to go.
One last picture that I must include. DH and I sometimes have what we call "date night," which some times means going out and other times means watching a movie at home and laying on the couch. Apparently the cats felt that they were in need of a date night as well.
It actually cracked me up because they don't lay like this often, if ever.