I woke up this morning and felt like making something different for breakfast. On the weekends, DH and I usually make a hot breakfast as opposed to our usual cereal that we eat during the week. This morning I woke up early while he was still sleeping I baked scones.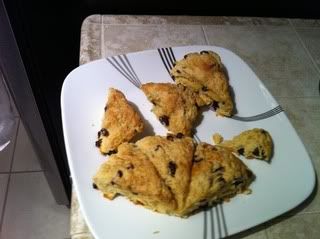 They turned out pretty good and it's kind of fun to rediscover what you can create with some simple ingredients most of us already have on hand.
As for the recreating...I started the
September Sweater
in January and I finished one sleeve (I decided to make it long sleeved):
That's as far as I got. I love the way this sweater looks and I really wanted to own it. After getting this far, I decided that it had become a "dreaded knit." I love the way cables look and I can handle knitting them, but I think this sweater had too many cables throughout the whole thing and I just decided I didn't want to make myself finish it. Also, I felt like the cables got lost in the yarn that I chose for this project. I should have used a solid color yarn. I really wanted to complete another sweater for myself and this wasn't the way to do it. It just took far too much concentration.
So I started something EXTREMELY simple. This was better for me because I could mindlessly work on it while watching TV or while talking at knit night. I wasn't quite ready to frog the sleeve I had finished on the September Sweater, so I used the rest of the ball of yarn to start the
Garter Yoke Cardi
. Finally I came to the point where I needed to use the yarn from the first sweater so I am knitting straight off of that.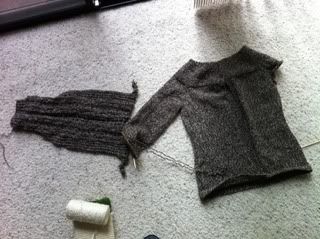 This way it feels less like frogging and more like recreating.