I have not been knitting as much as usual. I did not even post during the month of June, which is somewhat disappointing since I had been pretty consistent up until that point.
Instead of posting about knitting, I will just post pictures from what we have already done during July (I don't even have pictures of anything for the month of June. Not sure what happened there).
We went to the Alameda County Fair with my parents (an annual tradition). They were able to beat the World's Record for the largest hamburger, so of course we had to take this dorky picture.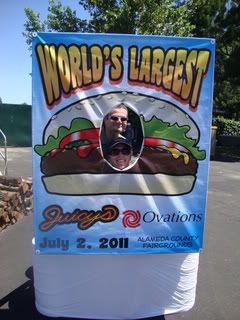 We ate corn dogs (a fair must!).
For the first time, we went and watched the pig races. How have I missed this in all the previous years we've gone??? Hilarious!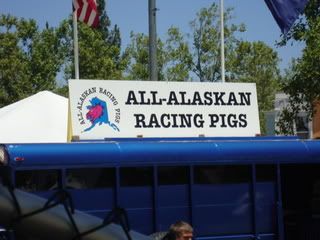 I don't know why, but I always love wearing things that relate to a holiday, like black and orange on Halloween, or red, white and blue for the 4th of July. So on the Fourth I wore some patriotic earrings that I made that morning, a white top, a blue skirt, and red flip flops. While I don't have a picture of this amazing ensemble (ha ha, I crack myself up), I did happen to take a picture of the artwork I did on my toenails.
In the morning we attended a parade. It was probably 95 to 100 degrees! That's commitment my friends. I don't know the last time (if ever) that I have gone to a parade for the 4th of July, but we all had a great time. DH took tons of pictures, so I will just include the beginning and the end of the parade.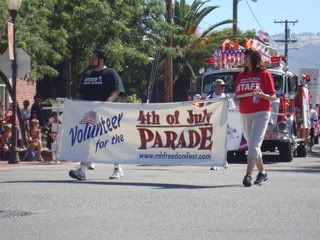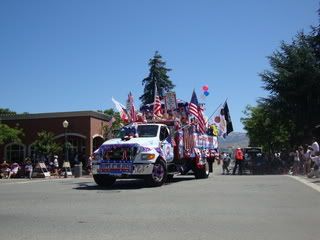 After the parade we tried out a new BBQ place. DH loved it more then his usual BBQ place and we plan to go back. It was a LOT of food and also very delicious. I hate to admit it, but my favorite part was the free ice cream.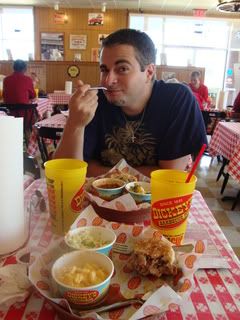 After lunch, we went home and took a nap. Then headed over to my in-laws for a BBQ dinner. Believe me, we did not go hungry that day! Then DH, my sister-in-law and I headed out to watch fireworks. We actually ended up watching them from DH's work parking lot. I was a little skeptical, but it was actually very quiet and easy to go when we were ready to leave.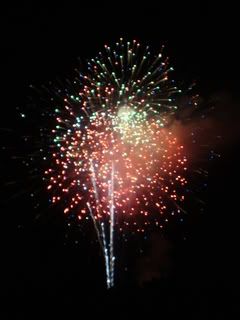 Our one year anniversary is coming up on August 14th. Since I will be starting a new school year on August 1st, I will not be able to go anywhere during that month. We decided to celebrate a month early and since DH's work closed for the week of the 4th of July, we took that opportunity to go to Pismo Beach. The weather was perfect. Of course, the first thing we did when we got there was eat (notice I never leave out this important part of any event).
It's almost a little sad how much we look forward to having that clam chowder bowl at Brad's. I highly recommend it!
Most of the time we were there, we spent it in the hotel room just relaxing. I was able to actually get a sock finished and started on the second sock. Yay! Since these are going to be a Christmas gift I am extra excited that I am now almost done with the pair. That's my one bit of knitting news in this post :)
We did go down to the beach as well.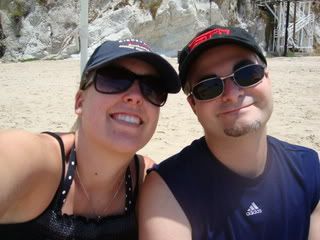 We have never taken a beach umbrella with us before, but it was totally worth it!! Here's our little set up.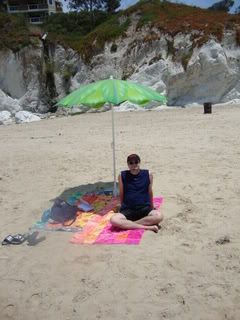 Hope everyone had a safe 4th of July and is having a wonderful summer!