Now I am sure we all have those projects that need to spend some time alone and think about what they have done to us. They get put away in a bag, a drawer, or shoved into the back of a closet. I recently pulled out one of these such projects. This guy had been on "time out" for about a year (not really sure, because for some reason I never entered it on ravelry...so not like me). Here is the project that had to think long and hard about what he did: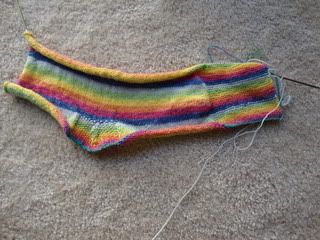 They are sideways socks. The pattern wasn't particularly hard, just a different way of constructing socks, which I thought would be fun when I started them. I also thought it would be cool to have sock with vertical stripes instead of horizontal ones. Turns out I was wrong. These socks were not fun at all for me. If I was dreading working on the first sock, what made me think I would ever do the second sock? It might have been my first case for Second Sock Syndrome (SSS).
So the sock was shoved in a bag and then smashed into the bottom of my knitting basket. I pulled it out the other day and didn't want it sitting there unfinished any longer (maybe pregnancy is causing finishitis). I hated to rip it out because I spent so much time on it already, but after realizing that I would have to keep knitting this sock plus the second one in order to finish the pair, I finally decide to frog it (something that is sometimes very painful for me as I watch hours and hours of work be undone in minutes).
In these situations, all you can do is slip the needle out and RIP IT!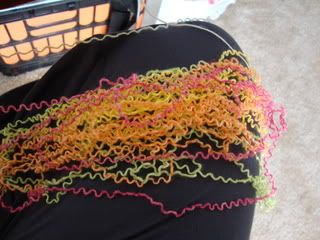 It actually ended up looking like really colorful top ramen, which is kind of fun. Plus once it was all ripped out I immediately cast on a pair of basic toe up socks. I finished one sock in about two days and have already cast on number 2.
I felt a little crazy at first when I frogged all my hard work, but felt brilliant once I had finished that first sock.