FINALLY!!! The school year has ended. I actually had my last assignment and presentation for the credential program on Tuesday. Then I finished my long term subbing job at the school where I student taught on Friday. Friday was actually a teacher work day and I offered to clean out the classroom I was subbing in. This is more difficult than you would think when it's not your stuff. They wanted everything cleared off the desks, so I just put it all in a box and on a shelf. Hopefully the teacher will appreciate it. While I was cleaning (and sweating) the principal came into my classroom and said that she knew a principal who was looking to fill some openings. She wanted me to call her right away! It was around 9am when I called the other principal and she asked me to come in for an interview at NOON!!! I had to leave early, rush home, shower and put together a portfolio. Talk about STRESS!!! Overall, I think the interview went well. They said they would let me know by Tuesday. It's not my first choice, but it's a job!
During last week I was also able to complete some projects. One was this bag for my cousin's birthday:
The other was this Baby Surprise Jacket for my niece. I made it to replace Trellis (see post below). It's not as detailed, or nice, but definitely a much quicker knit.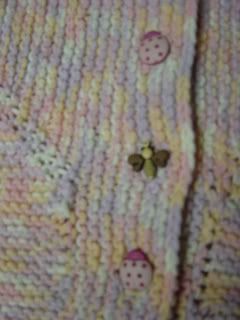 I didn't finish the two things in time to send the package early enough to make it by my cousin's birthday, but I did send it the day of her birthday (which I was impressed by considering all that I have going on). My cousin called me the day she received it. She was walking out the door to buy a book when she found the package. She was able to use the bag for her purchase. The next day, she said she was glad it was a little chilly so that her daughter could wear the jacket. I must say, again, that a knitter loves when her/his work is appreciated!
Yesterday was World Wide Knit in Public Day (WWKIP). I really wanted to go to one of the meet-ups, but it just didn't work out that way. I was determined to participate, so I took my knitting with me when I went out for pizza.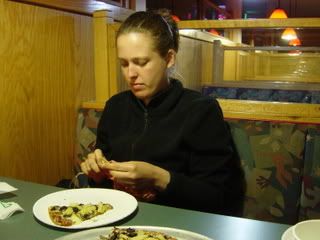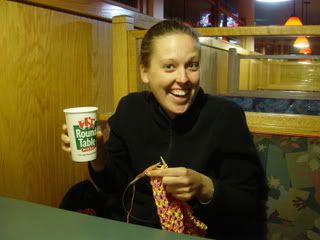 I think it would have been more fun to be with other knitters. Really need to find some knitting friends!! I've tried converting some of the friends I already have, but that hasn't really worked.
While I was working on my project, Eddie was watching me. The pattern for one row is "yo, k2tog." As he's watching me knit this row he says, "STOP, you're about to do two together!!" I had to explain what a k2tog is. It was so cute. He was like, "Oh, I just didn't want you to mess up." Considering he's not a knitter and doesn't know about k2tog's, that was an excellent observation!
After pizza, we came home and baked some peanut butter cookies. I knit in between batches.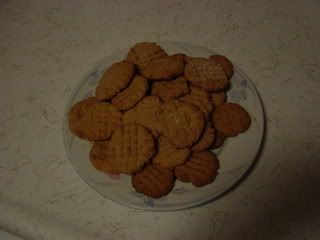 The cookies were ok. They were a "lighter" version of peanut butter cookies. The only ingredients were peanut butter, splenda, baking soda and 1 egg. They turned out pretty dry, but don't really taste bad. Much better when you dip them in milk (according to my sister). While baking these, I learned that there is not really a way to substitute baking soda. When I was looking at the recipe, I decided I had all of the ingredients. When it came time to add the baking SODA I realized I had baking POWDER. Not the same. Fortunately, Eddie found some in the back of the cupboard (always a sketchy place to find things). To test the baking soda, I sprinkled some into some vinegar. It fizzed, so it was still good and it did it's job for the cookies. It really is the little things that can make you happy.
Today is my graduation from the credential program. I'm not all that excited about it because graduations are always SO LONG!!! It will be a nice close to the program though. The graduation is at 5pm (that's right on a Sunday...and Father's Day, ridiculous). Anyway, then I have one week off. I'm leaving for Colorado on Tuesday with my step-dad. Then the following week I start the Masters Program. I must be crazy!
Wow!! This was long! I'll finish up by wishing a HAPPY FATHER'S DAY to all where it applies :)