So much has been going on. It's like I went from sitting around knitting and catching up on TV series on Netflix to working full time and not finding enough time in the day. Don't get me wrong, I'm not complaining, but the house is a little messier and it's more challenging to get in my goal of a blog post a week. I'm going to do my best though!
For those of you who don't know, Stitches West is this huge knitting convention that happens once a year in Santa Clara, CA. This is conveniently a 15 minute drive from where I live. People come from all over and make a weekend out of it. One of these years I'd like to treat it that way or go to a convention like this that is further away. To me, Stitches almost feels like going to the world's biggest yarn shop since it is so close. Here is what it looks like: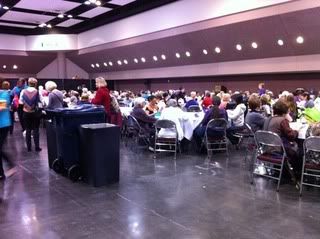 And Lily Chin was there: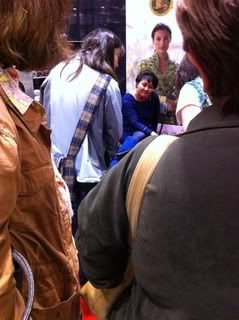 Might I say, that since I went alone and was taking these random pictures of nobody and everybody, I kind of felt like a creeper. Ha ha! Oh well, wanted people to get the idea that it's no small thing.
Anyway, I only ended up attending one day and I took two Market Session classes. The first one was "Knitting in Both Directions." Basically you knit right to left like normal, and then instead of turning you work over and knitting that direction again, you keep the right side facing you and knit from left to right. I definitely need more practice before I try doing this on an actual project because I'm pretty sure my gauge would vary dramatically throughout the project.
The next Market Session that I took was "A Taste of Bead Knitting." I haven't really attempted knitting with beads, but I've seen some awesome projects that I might want to try. Most likely, I would want to do a shawl with a few beads here and there to add a little something. Since the Market Sessions are only an hour, we knit beaded bracelets (which hey, a finished project in one hour...not too shabby!). Here is the kit they gave us (very organized!):
And the finished product: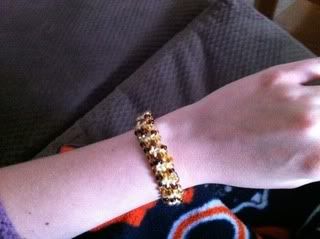 During Stitches, your spending can easily get out of hand. People even discuss strategies for staying on a budget, like bringing an allotted amount of cash and then once it's gone that's it! I forgot to bring my cash, but I did fairly well in the beginning. This is what I bought before my last class: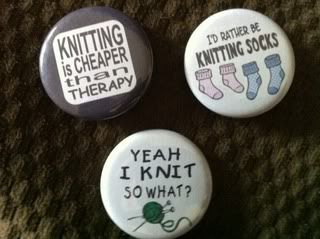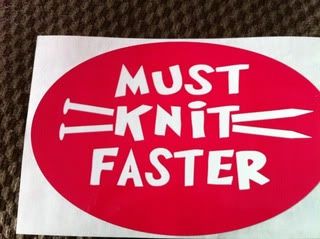 I must admit, if I'm sitting in the car and I get stopped at a red light and there is some knitting next to me, I'm tempted. I felt that I may need this reminder:
And by far my favorite. If only it were true: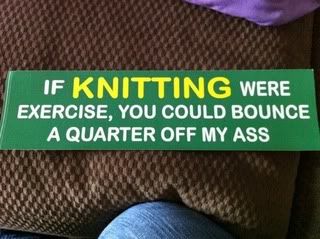 I bought this kit: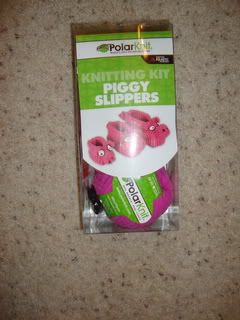 Every year that I go to Stitches I am tempted to buy these sock blockers and this year I decided it was going to be my "splurge":
So that was everything I bought before my last class. Notice I didn't really buy any yarn, aside from what came in the kit. My husband reminded me before I left that I have plenty of sock yarn in my stash...he doesn't understand!
As I was leaving the convention, I did one more walk around (just in case I missed something). That's when I discovered
Sunshine Yarns
. Her color variety and combinations were amazing! That is what initially drew me into her booth. Then I started reading the names of the colors. Many were Harry Potter and Twilight themed. Since I love both series, it was over right then and there. I had to have some. My only regret is that I couldn't get more!
The yarn on top is called "Esme" (Twilight) and the darker one on the bottom is called "Department of Mysteries" (Harry Potter):
I have so much more catching up to do (blogwise) so I'll try to post again soon. By the way, I love comments, so if you got this far please leave one :)