For Mother's Day, I made breakfast for my mom and family. I also decided it was finally time to block a lace scarf that I made awhile ago (probably about a year ago) and give it to my mom for Mother's Day. I really haven't done lace blocking before, so I had put it off for quite some time. This is how I did it: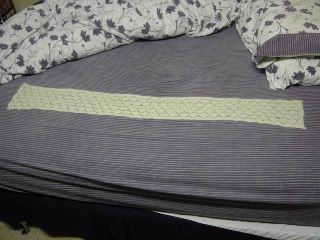 Like my official blocking device? Yeah, that's right, I used my bed. After pinning it down, I decided that next time I should probably use more pins. I only bought one box from the store. I thought about two, but went with one. When in doubt, always buy extra. Here's the scarf after blocking:
Tonight, I finished my STR socks from MARCH. The next shipment is for May and it usually comes at the end of the month, so I may have finished them just in time. Here's how they turned out: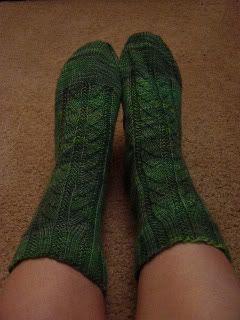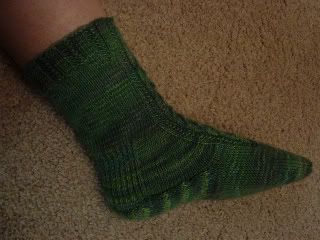 The pictures are a little dark. I really like the color of the yarn, but I'm not all that pleased with the way the socks turned out. They are a little baggy. I made the medium size. Maybe next time I should try the small size. I wear I size 8 in women's, which I think is more of a medium size. What do you think?