So I finally started my March socks from the STR sock club. I figured I should get on it since the May shipment should be coming towards the end of the month. Hopefully I can finish these socks by the end of the weekend (ha!). This is what I did tonight while watching "August Rush"...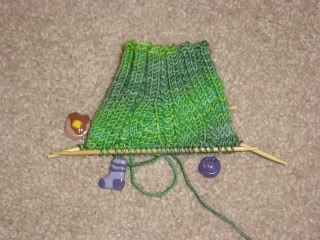 which, might I add, I did not think lived up to its hype. My mom told me how great the movie was, but I thought it was too predictable and a little cheezy! Wasn't a fan. Just glad that I didn't totally waste my time because it got me to sit down and start these socks :)
P.S. Take notice of the adorable stitch holders. My cousin made the ball of yarn and sock and I did the pancakes. So crafty!!