Many bloggers have specific themes for specific days, like Wordless Wednesdays or Random Mondays, and I have always liked the idea. I'm sure it helps you to keep blogging on a more regular basis. I don't know that I will continue Fiber Fridays, but it's fitting for this post.
A couple of years ago I bought a drop spindle at Stitches West. I don't really know anything about spinning, but I have been curious. I finally decided to buy one about 10 minutes before the market closed. The woman I bought it from was kind enough to show me how to use it. I think I tried it once after that and it then sat in the closet. Until this last Wednesday night that is. One of the girls that attends the meetup said that she would teach two of us how to use our spindles. She was very patient and even gave me some better fiber to use (we knitters/spinners will do anything to temp others to fall for our craft). This is what the fiber looks like before it is spun: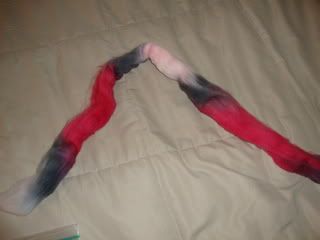 And this is what it looks like after I spin it (tangle it up):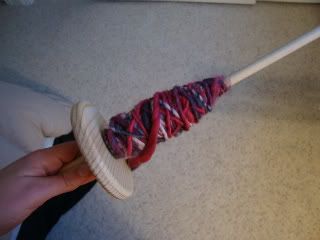 I have tried to do a little each day and like all things it takes practice. I have also put a book about spinning on hold at the library, so maybe that will help me figure things out.
Yesterday, I attended my second guild meeting. One of the members taught us how to make the silk azalea pattern she designed from silk hankies. It was so much fun and so different.
You start with a silk hankie:
Then you pull one layer off: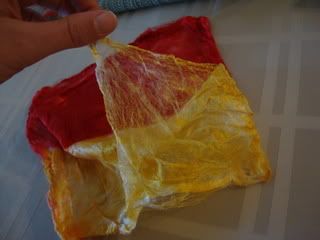 Next, you draft it out. This is done by poking a hole in the center with your finger and pulling it open. When it is thin enough, you break apart the loop and it will look like this:
Then you knit the petals (no spinning required):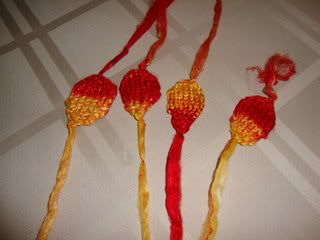 I will be sure to post the finished product when it is done.
Happy (Fiber) Friday!