I have been working on the
Pinwheel Baby Blanket
and finally finished it today, barely.
Most of my recent projects have been done using up stashed yarn and I have been doing really well on my yarn "diet." I had four balls of pink yarn that I used to make this blanket: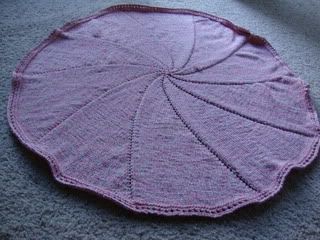 By the time I decided it was time to do the fancy edging on the blanket, I had 500 stitches all the way around. I was binding off and I had 79 stitches left and this is the amount of yarn I had:
DRAMA! Sure I found some people that had the yarn showing in their stash on Ravelry, but I really didn't want to go through the hassle of ordering it, paying for it, and waiting for it when I needed so little. I had several ends to weave in, so I came to this idea. Instead of weaving in the ends, I tied knots (I know, GASP!) and saved all the little pieces:
Then I tied those together (I know, more knots):
Then I prayed that I could bind off the last 79 stitches. It worked! Although it wasn't without some sweating (and maybe a little cursing) on my part. This is how much of the tied together scraps I had left when I finished binding off: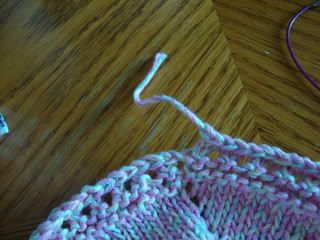 And finally, this is ALL of the remaining yarn from the 4 balls I used to make this blanket:
I NEVER want to have that happen again. I guess I had to up do myself from when I thought I had hardly any yarn left
here
.
I just hope the recipient loves it...and she's not a knitter so she may not notice all the knots :)