As I have mentioned before, I have been on somewhat of a yarn diet. When I get the itch to start a new project, I go to the stash first and try to find some treasures there instead of buying more yarn. We've been trying to stick to a budget and yarn purchases weren't really a part of that budget.
Then there comes a time when you need to celebrate (like when you get a new job after eight months of unemployment). So after I enthusiastically accepted a new job yesterday, I went and bought some yarn to celebrate.
The colorway of this yarn is just a number, so I call it "Congrats On Your New Job." Something bright and happy. And out of this yarn I have started my "Congrats On Your New Job" socks.
The actual pattern is
Monkey by Cookie A.
This is my first time knitting two socks at the same time on circular needles. So far it is going well, but I think the real reward will be at the end when I don't have to cast on a second sock because it will already be done.
On an off topic note, I wanted to share what I made for our Super Bowl party. I will not take credit for the idea (I found it somewhere online).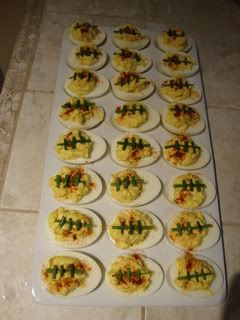 Deviled eggs as footballs with chives as the laces. They were too cute not to share!