...before you double knit.
Two years ago, I took a class on double knitting at Stitches West. It was a fun class and I really enjoyed learning a new technique. We made a little square with a heart on it. Mine was red and black. We were even given a sheet of notes on how to double knit. By the end of class I felt rather confident in my new skill.
Over the next two years, I didn't do a single project with double knitting. Recently I found a pattern for these
potholders
. I thought, "Double knitting. Awesome, I totally know how to do this."
So I cast on and started knitting. Again my "friend" Denial was playing games with me. It wasn't until I was two-thirds of the way done with this potholder:
that I realized something was wrong. It may be difficult to see in the picture, but every time I changed the color from the background color(in this picture, green) the opposite color (white) would be really tight. If you compare it to the picture below you might be able to see the difference. I contemplated just finishing it, but in the end the decision to frog it (rip it out) was the only right one. I really need to just accept that frogging is a part of knitting, whether I like it or not. So here is a picture of my frogged work: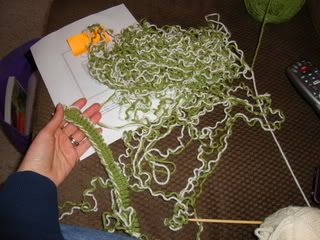 I'm really glad I ended up starting over and doing it right. Next time I shouldn't be overly confident in something I haven't done in two years (unless it's riding a bike...and even then) and be okay with checking my notes. That's why I have them. Finished product: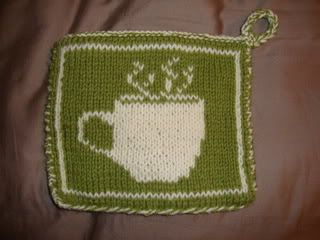 And the other side:
On another note, I joined the knitting boot camp found in this
group
on ravelry.com. Hopefully that will keep the stress of gift knitting at a minimum. I already earned my first badge :)