Last night DH and I went to the San Jose Sharks game. I don't own a jersey (like about 90% of the fans) so I wanted to wear something to support the team. Last time we went I wore one of DH's shirts, which was a little big.
It just so happens that I had some yarn in the stash with the perfect colors (black, teal & gray). The next thing I had to do was decide on what pattern to use. I thought about a hat, but wasn't really sure how great it would look with this variegated yarn. I was looking through patterns on
Ravelry
, but nothing truly inspired me.
Then I thought of the cowl I made for my mother-in-law. I doubled my yarn (since it was worsted and not bulky) and made this:
Then I added some teal earrings (which I must say is a rare occassion for me to ditch my stud earrings and wear some pretty dangly ones). A complete outfit: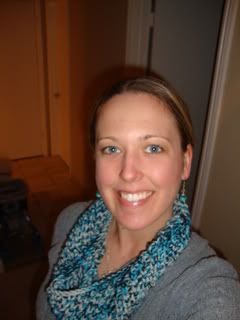 Here we are at the game. The picture is a little blurry because I took it with my phone. I really wanted the rink in the background, but DH had his hands full with nachos and didn't really want to stand up and turn around. Gotta have your priorities straight :)
The game wasn't so great while we were there. The other team scored 3 goals. We had decided before we got there that we were going to leave at the end of the second period. The Sharks scored with seven seconds left in the second period. By the time we got home the Sharks had tied the game and then we watched (on TV) them score the goal to win the game. It's a good thing we don't go to more games. We leave, and they pull it together. Oh well.